Pack Your Car The Less Stressful Way
On the big day, you have the Professionals to handle all the major heavy household items. However, there are items that fit under "non-allowables" that many companies will not move for you. Non-allowables are smaller items that can cause hazards or are items that are of high personal value.
For example:
Hazardous Materials
(these are some items, however your company should have a detailed list)
Flammable, Corrosive or Explosive items
Acids
Aerosols
Car Batteries, Household Batteries
Charcoal, Charcoal Lighter Fluid
Cleaning Solvents
Fire Extinguisher
Fire Works
Gasoline, Kerosene
Loaded Guns, Gun Reloading Supplies
Paints, Paint Thinner, Poisons, Pesticides
Propane Tanks
Personal Items
All Keys
All Legal Documents
Jewelry
Laptop Computers, Cell Phones, Tablets
Medicine
Photographs, Photo Albums
Sterling Silver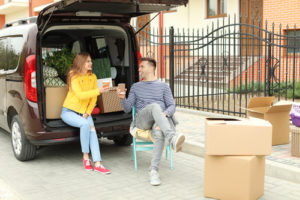 How Can You Pack Them in Your Car?
Don't wait last minute without planning how you are going to pack your car efficiently. If you don't, you might end up with a high price to pay fixing your latest Sedan.
Here are a few steps to consider:
Start organizing what items will be packed in your car: Try putting these items all together in a room so you can see what you have.
Do you really need it? : This is your opportunity to start giving or throwing away items you don't need. Avoid being a hoarder.
Who will be with you? : Make sure you account for passengers or pets that will be travelling with you in your car. This will help you determine beforehand if you actually have sufficient space. If not, ask your friend to help you with their car.
Put some items in boxes: Some of those harzardous materials are best in boxes. Don't have them let loose in your car.
Malleable items in malleable bags: There are many hidden spaces in your car if you're tight. Putting items that be squeezed in hidden cracks gives you more space and can serve to keep your items stable during the drive.
Plan and Organize!
The bigger the house, the more you have. The more you have, more time is required to plan before the big move. To avoid panic and more stress take time to plan and organize. That is the Key!